RVS Kettingbaan Tweespoors/Driespoors
Ketting: Duplex rollen ketting 3/4″
Werkhoogte: 380-500mm
Spoorbreedte: 540 mm h.o.h.
Motor: 1,1 kW s
Snelheid baan: 0,11 m/s
Capaciteit: Max 1000 Kg
Ketting: Duplex rollen ketting 3/4″
Werkhoogte: 380-500mm
Spoorbreedte: 540 mm h.o.h.
Motor: 1,1 kW s
Snelheid baan: 0,11 m/s
Capaciteit: Max 2000 Kg
Voordelen
Kwaliteitsproduct
Perfect reinigbaar
Snel
Gedetailleerde afwerking
Aantrakkelijk geprijsd
Goede service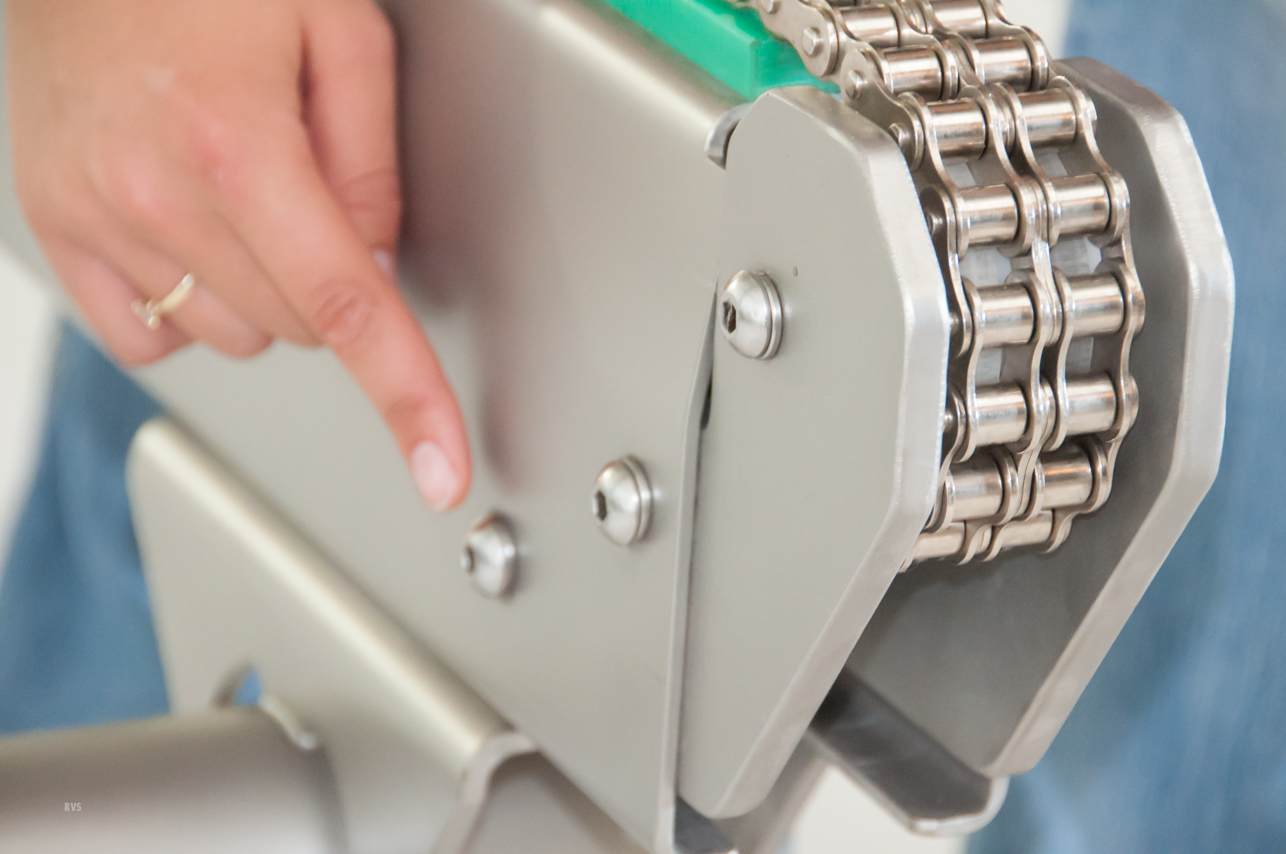 Neem contact op 
voor de mogelijkheden
Prijslijst tweespoors
Bekijk hier de veelgestelde vragen. Staat uw vraag er niet tussen? Neem gerust vrijblijvend contact op voor de mogelijkheden. 
Wat zijn de voordelen van een RVS/stalen rollenbaan?
Een RVS rollenbaan is echt geschikt voor in de voeding, zeewater of voor buiten.
Een stalen rollenbaan is perfect voor in droge omgevingen bijv. in de aardappel, groente of fruitsector.
Is maatwerk mogelijk?
Een rollenbaan op maat is mogelijk. Neem hiervoor contact met ons op. Als u een rollenbaan op maat laat maken kan dit de levertijd verlengen.
Wat is de levertijd?
De gemiddelde levertijd voor 1 rollenbaan is 4 a 5 weken.
Hoe is de transport geregeld?
De prijzen zijn exclusief transport. Wij kunnen dit transport voor u regelen met eigen vrachtwagen. 
Waarom zou u voor een rollenbaan kiezen?
Rollenbanen geven ondersteuning onder het gehele pallet. Hierdoor kan een zwaar/slecht pallet niet doorbuigen.
Bij een rollenbaan kun je met minder elektrisch vermogen meer pallets transporteren en heb je minder wrijving in het systeem.
RVS ROLLENBAAN
Bent u op zoek naar een RVS Rollenbaan? Ga naar www.RVSRollenbaan.nl of neem contact op voor de mogelijkheden.