Kwaliteit, snelheid en perfect reinigbaar. 
RVS Rollenbaan
De RVS rollenbaan is vervaardigd uit RVS 304 buis profielen, met hierop een plaatstalen constructie waar buiten het zicht een ketting in loopt die de rollen aandrijft. De rollen zijn accumulerend. Dat wil zeggen dat ze niet onder het product door blijven draaien maar stil komen te staan. De afmetingen van de rollenbaan zijn voor iedere toepassing anders in zowel de lengte als breedte.
Productspecificaties
Ketting: Staal, RVS of vernikkeld
Materiaal frame: RVS (roestvrijstaal 304)
Paralyseren: Is een optie
Materiaal rollen: RVS roestvrijstaal 304 of roestvrijstaal 316 (bestand tegen zeewater)
Motor: Lenze of SEW
Afmetingen: Voor iedere toepassing anders in lengte en breedte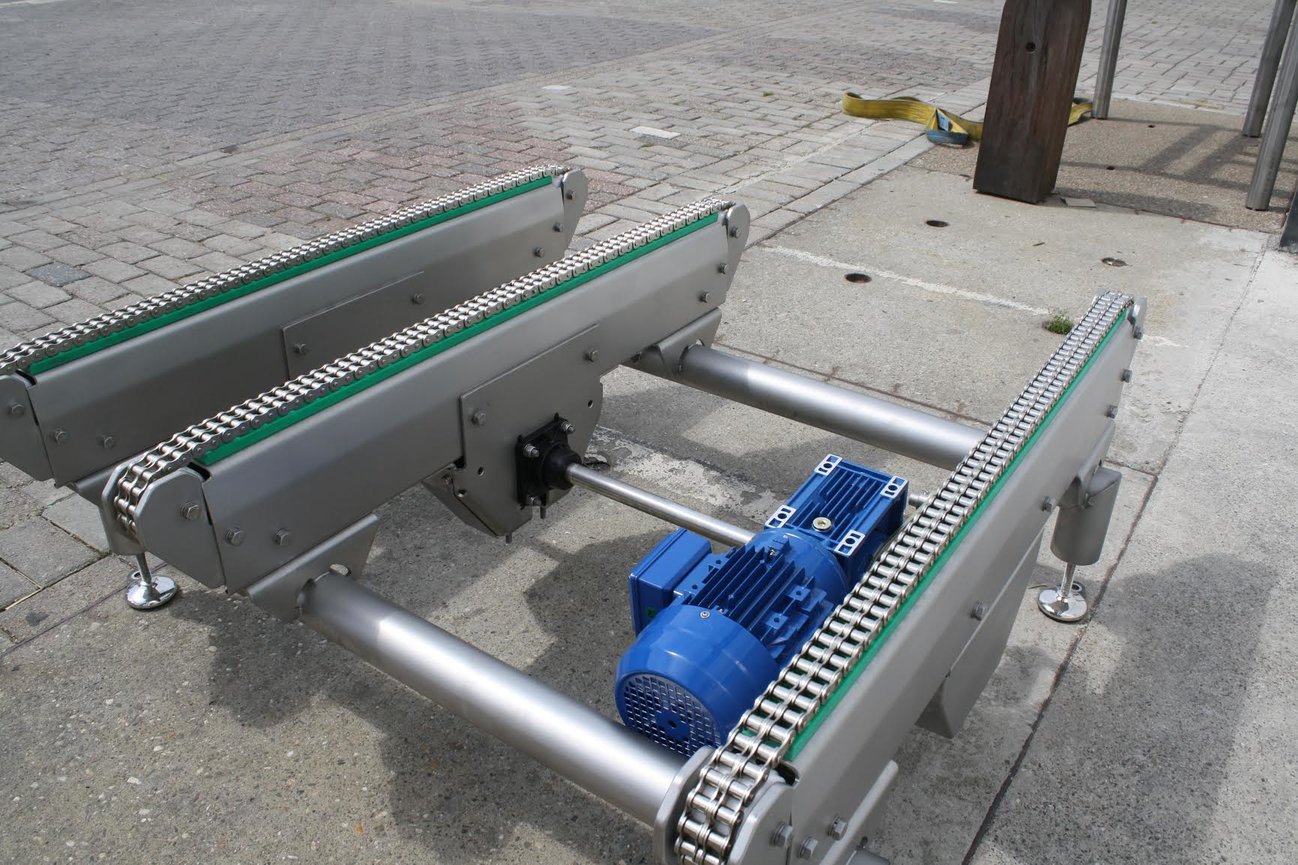 Neem contact op 
voor de mogelijkheden
BESCHIKBARE AFMETINGEN
800 mm breed | Kettingbanen | 3-Spoor | RVS
Beschrijving
Hoogte:
Lengte:
3-spoor 800 RVS
400-500
1250
3-spoor 800 RVS
400-500
1450
3-spoor 800 RVS
400-500
1650
3-spoor 800 RVS
400-500
1850
3-spoor 800 RVS
400-500
2050
3-spoor 800 RVS
400-500
2250
3-spoor 800 RVS
400-500
2450
3-spoor 800 RVS
400-500
2650
3-spoor 800 RVS
400-500
2850
3-spoor 800 RVS
400-500
3050
Bekijk hier de veelgestelde vragen. Staat uw vraag er niet tussen? Neem gerust vrijblijvend contact op voor de mogelijkheden. 
Waarom zou u voor een rollenbaan kiezen?
Rollenbanen geven ondersteuning onder het gehele pallet. Het pallet kan dus niet doorbuigen.
Bij een rollenbaan kun je met minder elecktrisch vermogen meer pallets transporteren en heb je minder wrijving in het systeem.
Waarvoor is een RVS rollenbaan geschikt?
Een RVS rollenbaan is echt geschikt voor in de voeding, zeewater of voor buiten.
Wat is de levertijd?
De gemiddelde levertijd voor 1 rollenbaan is 4 a 5 weken.
Hoe is de transport geregeld?
De prijzen zijn exclusief transport. Wij kunnen dit transport voor u regelen met eigen vrachtwagen.
Wat te doen als ik meer informatie wil?
Voor meer informatie neem contact met ons op. Wij kijken en denken graag met u mee voor het beste resultaat.
RVS KETTINGBAAN
Bent u op zoek naar een RVS Kettingbaan? Ga naar www.RVSKettingbaan.nl of neem contact op voor de mogelijkheden.